---
Hello and thanks for visiting my site. Let me introduce myself and talk about this site...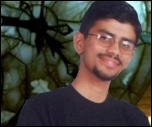 My name is Karthik Abhirama Krishna and I am a 20 year old (birthday May 15, 1982) student from India. I live in Secunderabad, Andhra Pradesh, India.
I am currently doing my Fourth Year (First Semester) of Computer Engineering at Sree Nidhi Institute of Science and Technology.
In the free time that I have (my favourite days of the week are Friday evenings and Saturdays) I maintain this site, http://karthik82.tripod.com and my Doom Site, at http://www.newdoom.com/hosted/karthik.
I also like reading books, watching movies (you'll find many movie reviews here), listening to music and of course, playing games (did I mention Doom is my favourite game?).
Other than Doom, which is my favourite, I also like Blood, which I like almost as much as Doom. A couple of years back I made a site about that game. Quake I, II are the other two games that I like.
My favourite filmmakers are John Woo, Quentin Tarantino. My favourite stars are Jackie Chan, Arnold Schwarzenegger, Sarah Michelle Gellar. My all time favourite movies include
Reservoir Dogs, Pulp Fiction - Tarantino's best!
John Woo's A Better Tomorrow, Face/Off, Broken Arrow
Seven (dir: David Fincher), From Dusk Till Dawn
The Die Hard movies
Jackie Chan's Project A, Operation Condor: Armour of God II
I prefer to watch movies, rather than TV shows, but when I do watch TV, I like to see Dragonball Z. I used to be a big fan of Buffy the Vampire Slayer and Star Trek: The Next Generation. But nowadays I hardly watch anything on TV.
I also like drawing - I draw on the back pages of my notebooks, etc. The only drawing of mine on the net is one which I did for The 9th Gate, a current project which I am contributing to. The official site's download page has that drawing.
The books I read are novels (Michael Crichton) or comics, nothing else usually. MAD Magazine is fantastic and I have been reading it for many years now. I like to listen to all types of music. I don't have one particular favourite band or singer. I do NOT chat on the internet and I am usually logged on as Invisible in Yahoo! Messenger.
My email address is karthik_abhiram@yahoo.com. You can mail me anytime, about anything, and I will reply. If you want to read more about how I got interested in Doom and about my levels and such stuff, you can read my interview at Doom Center (Aug 2, 2001).
My brother Varun is 14 years old and he is also a big Doom fan and a terrific level designer. You have probably heard of him - his Doom site Doom Inferno is at http://varun.doomcenter.com. My parents have been very supportive in our Doom-ing :). My father's name is S. Abhirama Krishna. He is the Chief Operating Officer at Rendezvous On Chip (I) Pvt. Ltd. My mother's name is Gowri.
My home address: 10-3-21 Street No. 7, Lane No. 2, East Marredpally,
Secunderabad, Andhra Pradesh,
500026, INDIA. Phone: 7733441
---
College/NIIT
I am doing my Third Year, Second Semester Computer Engineering in Sree Nidhi Institute of Science and Technology. Upto March 2002, I used to attend a computer course at an institute called NIIT. College timings are Mon-Fri 9:40 AM - 4:20 PM, I usually reach home by 6 PM. I like college - the lecturers and professors are very good. School and Junior college: 1985 - 1997 St. Patrick's High School, and 1997-1999 Little Flower Junior College.
---
About this site
What you will find on this site
This site is about me, my personal site, and I have what you might call an online diary here. I have been writing updates on the site since May 31, 2000. I write about what is happening at college, etc., about the movies and TV shows I'm watching, and other things.
There is also a section on the site devoted to my movie reviews and other movie-related material. Other sections include the Jokes pages, and on the Downloads section you will find files that I have put up for download.
I try to update my site regularly.
What you will NOT find on this site
You will not find anything about technology, science, programming, electronics, etc. here. I am not a technical type of person and that stuff just doesn't interest me... unless it's related to Doom or movies in some way. Of course, there are some pages of that sort on the site, but that is not the main type of content I'd like to have on this site.
I do not give free email, search engine service, etc. - there are lots of sites that already do that.
This site was designed, created by and is maintained by Karthik. I do practically EVERYTHING on this site - all the graphics, content, writing, etc. I use FrontPage Express 2.0 to maintain the site. I also wrote all the Javascripts and style sheets used on the site. All the content on these pages that I have written and all original graphics are Copyright © 2000, 2001, 2002 by me. My movie reviews are © 1997-2002, some other material is from 1994.
Acknowledgements
All the Movies reviewed here have tiny pictures on their pages, which were obtained from various sites, I am using them just so that my review pages will not be plain-text. I don't intend any infringement of copyright. Jokes here are collected from various sources, mostly from email forwards, and some of my own.
Doom, Doom II, The Ultimate Doom and Quake are © 1993, 1994, 1995, 1996 respectively by id Software
Duke Nukem 3D © 1995 by 3D Realms Entertainment
Heretic is © 1994 by Raven Software and id Software
All other games are © their creators
The Movies and TV Shows I've written about are all © their respective owners.
This site is hosted by Tripod. The site hit counter is from FastCounter. The guestbook is from htmlGEAR.com.
I started counting visitors to the site since June 2, 2000. The site has been through many colour scheme changes, but three major design changes, one on October 27, 2000, April 16, 2001 and October 17, 2001.
On 19 May 2001, and later on 7 April 2002, I got rid of a lot of redundant pages that were simply collecting dust on the site. Everything important is now under it's own section (accessible from the links on the side of the main page). All other material is on the Other Content Page. Check that page if you can't find a page/file that was there before - if you can't find it there too, it means I've deleted it. Of course, I have EVERYTHING that I've ever put up on this site, no matter how long it was there, so you can always email me and ask.
Explore the site, and sign my Guestbook - because your comments and opinions are important. I update this site regularly, so visit me often.
[Home]